Translation validation – reliable management of your translation reviews
Validation management by 24translate
Do you find you lose track of things when it comes to large translation projects that involve lots of people? Translation validation is a service that ensures large translation projects are at all times fully monitored and appropriately managed, even where multiple languages are involved.
When is validation advisable?
One example: A mechanical engineering firm with international operations is publishing its new product catalogue. This is due to be translated into the target languages of all 15 countries in which the company operates. The marketing departments of each local branch are instructed to approve the respective translations. The challenges are obvious: The responsible project manager in Germany will for many weeks have to function as the intersection between the translation service provider and the 15 marketing departments in the individual branch offices, which will involve not only a lot of time and therefore money, but also be a breeding ground for misunderstandings, confusion and loss of information. The marketing manager is therefore looking for a solution in which the translation service provider is in direct contact with the foreign branch offices but which also allows him to retain an overview and hold all the strings where necessary.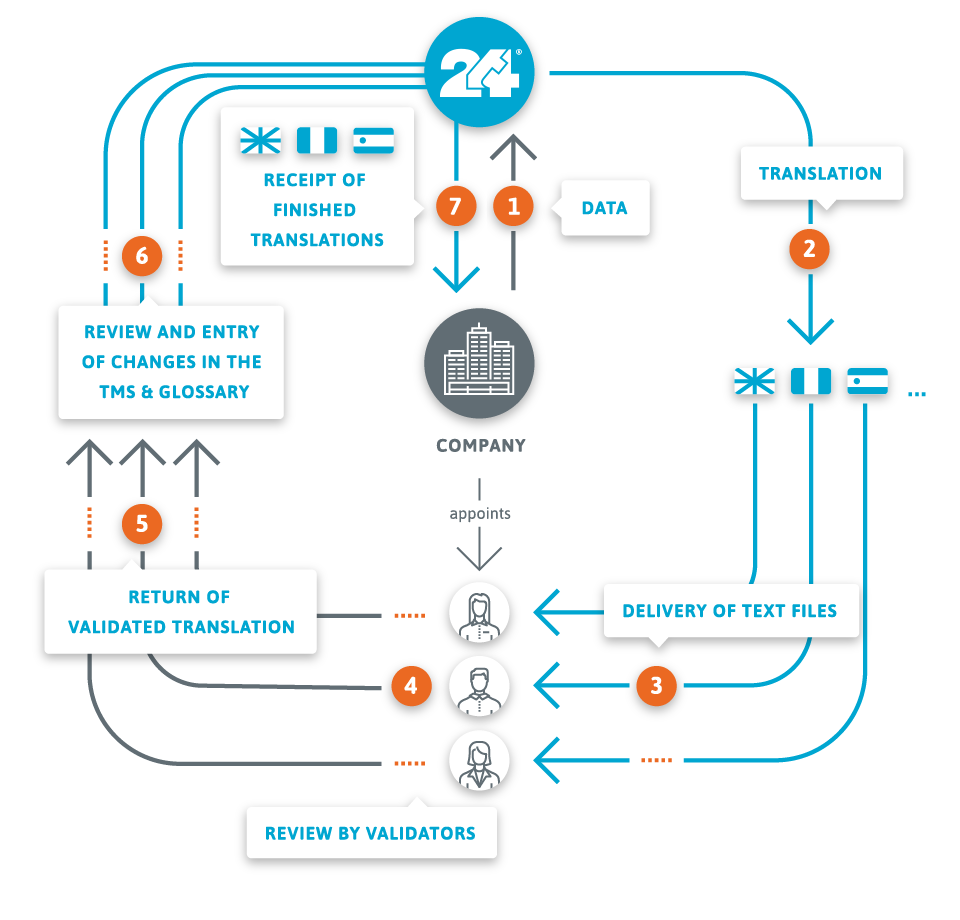 How validation works
The texts you need translating are uploaded to a platform to which all parties involved have access. As soon as they have been translated, the translations are likewise uploaded to the platform. The members of staff who have been nominated by the marketing manager (e.g. mother-tongue employees in the respective branch offices) now have the opportunity to review the translations internally within a set time frame. The completed website translations are only entered into the system or delivered to the marketing manager once they have been approved by the responsible validator. The marketing manager is able to check in on progress during the entire process but only needs to get involved if he or she wants to.
Translation validation service: to your advantage
Any changes made are stored in the translation database and are available to translators for future translations. This increases the accuracy and quality of your translations while keeping translation costs down. Such databases include the translation memory, which we create and maintain for each customer and which is available to you at all times, and a glossary specific to your company.
If you have further questions,
call us at +41 71 226 46 56 or use our free return call service*:
...or send us your message*:
* We use your data only for contacting you. The data is encrypted and transmitted to our servers.